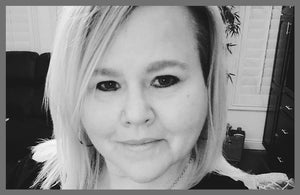 This is the time that I would introduce you to one of our staff members. But, for some reason we have a shy staff this month. So, I will take this time to tell you about myself. 
I'm the one you talk to on our social media platforms. I'm the one monitoring our VIP group. I post the funny memes, that hopefully make you laugh. I share the interesting articles about the changes to gun laws. 
I am also the person that replies when you slide into the G-Sight DMs. I leave the smiley faces when you leave a great review or comment. I am the one that laughs at all your #captionthis remarks. Some of y'all really crack me up!
I joined the G-Sight team in September of 2020, and I have enjoyed nearly every single day of it. I also work behind the scenes with our incredible marketing team being creative and insightful. 
I spent 3 years working in professional hockey as a Director of Game Operations and 2 years as the Production Manager of an multi million dollar music venue, where I brought in acts like, Journey, Chicken Foot, Willie Nelson, Rob Zombie and Alice Cooper and more. I have degrees in Journalism and Mass Communications.  
I started my career as the assistant marketing director for Better Homes and Gardens Magazine, Realty division. I started event planning as a hobby, and turned it into the next evolution of my professional career. I have produced everything from multi million dollar concerts and fund raisers, to small weddings.  Overtime as marketing and communications have evolved, so have I and so has my career and I couldn't be happier!
I am a total gear head and sports , well hockey junkie. I love music of all kinds, but lately have been on a Drop Kick Murphy's and Flogging Molly's kick. Published and award winning author. In my spare time you can find me working with rescue horses and dogs. 
I've met, and hung out with Bobby Hull, Mike Tyson, Dan Marino, The Stanley Cup, Alexander Ovechikin, Dick Butkus, Joey Fatone, Lance Bass, Kirk Gibson, Tommy Lasorda, Manon Rheaume ( 1st woman to play in the NHL), Kyle Busch, Alice Cooper, Sammy Hagar, Kid Rock, Jeff Timmons and so many more!
I recently took my CCW course and joined a female shooting league. I am hoping to get involved in shooting competitions in the future. 
I hope that you have all joined our private face book group and we can chat!
https://www.facebook.com/groups/GSight
" Imaginations is more important than knowledge. Knowledge is limited but imagination encircles the world" ~ Albert Einstein
Andrea " Andi" Dupper Content Writer, Social Media Marketing Mgr.