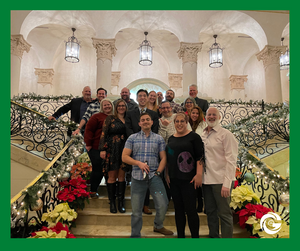 On the cusp of Christmas, we wanted to send a special message out to each of you. 
Recently our team celebrated the holidays and an amazing year of business. 
We want to share our wishes and resolutions for the new year. 
" My holiday wish is for everyone to love and respect each other. My New Year resolution is to stay focused." Brian Williams, President.
" For Christmas, I want all the families to celebrate the true magic of Christmas. For 2020, I will be more committed to spending time with my family and friends." JT, CMO
" This Christmas, I want every shelter animal, every animal in rescue to feel loved and find a family of their own. My new Year Resolution is to find new ways to give back to my community." Andrea Dupper, Marketing Manager
"My Xmas wish would be for the VA to hold their medical staff accountable and provide Veterans with quality health care. My new year would be for my daughter to make it through basic training successfully after graduation." Eric Elton, Special Operations Manager
" For Christmas, I wish everyone a great day filled with family and friends. For 2022, I want to read more books." Jonathan Morales, Customer Experience Mgr.
"My Christmas wish for everyone is that they live a created life and not one given by their circumstances. My New Year Resolution is to fulfill on all my New Year Resolutions.", Ronen Rahamen
"Christmas Wish -  No Homeless Military Veterans. New Years Resolution - Run Tough Mudder in 2 Hours and 20 Minutes. Shaving 30 minutes off my last run time. ", Addison Galaudet, Customer Experience
"I'm sending my Christmas wish to you for a COVID, Delta, Omicron, mask-free, and mandate free year!  Let freedom ring! My New Year's resolution is to travel more across the USA.  So many places in this beautiful country I have not yet seen.", Kevin Klingenberg, Customer Experience
Christmas wish list is - New tires and rims for my 4Runner. New Years resolution is- Get my motorcycle endorsement.", Jose Garcia Rizo, Customer Experience.
From our team, to all of you, Merry Christmas and Happy New Year!