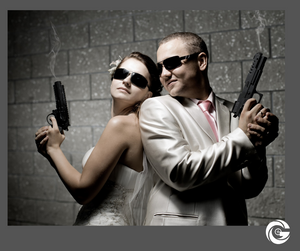 Many people struggle to find something new or interesting to do on a date night. Do you go to the movies and sit in a dark room together not talking or have dinner and hope there is no lull in conversation or bad service? Maybe you and your partner blankly stare at each other and shrug your shoulders when one asks what you want to do on date night.
However, if you're looking for fun activity to spark the mood, get shooting! Whether you are long time lovers or on a first date, shooting is a great option to spice things up or break the ice. Shooting promotes a competitive spirit as well as conversation and is just plain FUN.
One of my favorite date night/day ideas is going to a gun range. Here's why it makes such a great date idea. 
Breaking the Ice
A date at the gun range can definitely shake off those first date jitters and help you get to know someone. Combining an activity with the date lessens the potential for conversation lulls and gives you a new experience together. Shooting releases dopamine and endorphins which will keep both of you engaged and focused. Plus, shooting is a great boost for building confidence and trust!
Don't be a bore
All the "traditional" date spots can get boring and redundant quick, so get that adrenaline pumping and bring your date to the range. When doing an activity on a date people are more likely to create a connection from engaging in a task together. It gives you both something to talk about and could lead to a follow up coffee shop visit or even a late-night bite to eat. Having date night at the range can create interesting conversation and push your date to the edge of their comfort zone by adding a bit of adventure you both may be looking for.
Dating is competitive and so is shooting
Competition creates a spark for future dates and spicy interactions. Consider challenging your date with a shooting competition or a race to see who is faster at reloading. You could take it a step further and make a bet that whoever gets the tightest grouping gets to pick the destination of the next date.
Easy planning
It's smart to call ahead in case a reservation is required or there is a wait time, but most ranges have open times you can drop in. Make sure to verify if you need to bring anything, but most ranges have everything you need ready to go. If your date isn't comfortable with shooting, consider taking a class  together at the range first.
Not Just for the New Couples
Life is busy and sometimes we get too caught up in the day-to-day stuff. Having a quick date night with your longtime partner at the range could help relieve some stress and help you reconnect. Printing out a game target or just putting a few rounds down range could help put the pressures of the day behind you so you can focus on the target in front.