Customer Spotlight: Victor M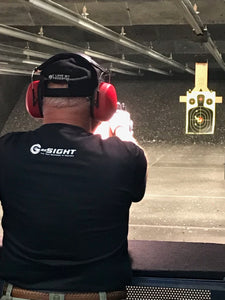 At G-Sight, we can honestly say we have the greatest customers. Our customers often contact our customer service department or our social media team just to say Hi and thank us for making a great product. We read every email, every facebook, instagram and twitter comment. Every once in a while, a customer really stands out and Victor is that person this month.
He sent an email to our Special Operations Officer, Eric Elton, with photos of himself in our G-Sight T-Shirt and a target torn to shreds from his practice at the range.  
Victor practices with his ELMS 3 days a week and twice a month at the range. 
"Before ELMS, I shot once a week. I shoot fifty rounds each time I go to the range. At 40 cents a round I now save $40.00 a month since utilizing the ELMS training system." Victor told us in an email. " I can see my results and observe what I am doing wrong and what needs to be done to correct it."
Victor, served twenty-two years in the Philadelphia Police Department. The retired police captain.