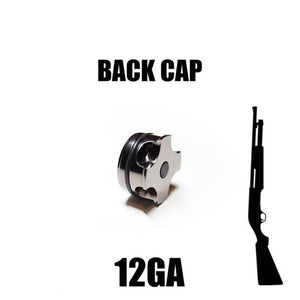 12GA BACKCAP UNIVERSAL CONVERSION
Now you can convert your Laser Cartridge, of another caliber, to use in your 12GA shotgun. Simply unscrew the back cap of your laser cartridge and install this conversion backcap in its place.
CONVERTS THE FOLLOWING LASERS: ELMS Plus, ELMS,Quantum XG, Gen 2, Strikeman, iTarget, LaserHit, Pink Rhino (2 o-ring version only), 

NOTE: Will not fit on a .45 ACP and .45 Long Colt Cartridge.
ATTENTION TO DESIGN: Grooves prevent the extractor from engaging, so you can cycle your shotgun without the Laser Cartridge ejecting. Although this cartridge has an unconventional shape, critical components are sized to fit and function flawlessly. 
Will not work with Auto 5, Saiga, Winchester Model 1897